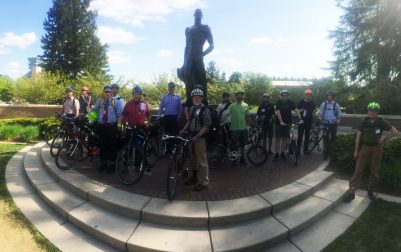 As members of the MSU's Bike Advisory Committee analyzed what made the country's five platinum-level Bike Friendly Universities so successful it became apparent that MSU needed to get their neighboring communities on board with the same vision to pursue becoming a platinum-level Bike Friendly Community.  This led to reaching out to the League of American Bicyclists and deciding to bring one of their staff to the university to meet with the committee and facilitate meetings with neighboring community leaders.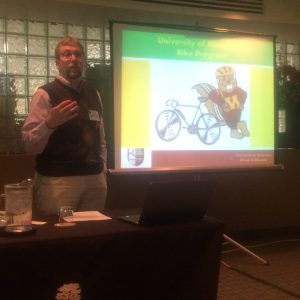 As the cost estimates climbed the idea of turning the visit into a day conference started to come together.  Eventually a new concept for a conference, a Bike Friendly America Conference, was hatched and after months of planning and seeking out sponsors, presenters and attendees the 1st ever conference of its type is now history.
The MSU team is now beginning to think about next year and whether to continue the conference on its campus or to encourage other universities to host it.  Please contact Tim Potter if you're interested in possibly hosting the event in 2017.
A wrap-up article featuring photos and video highlights can be seen here on the MSU Bikes' blog.